Single and French Doors
We can make bespoke front doors, single doors and French doors tailor made to your unique specifications. We pride our ability to capture the finer details of your door and bring all the details over onto your new replacements.
All our doors and frames are treated to three coats of a micro porous acrylic paint white, and then of course can be finished with any colour you require.
Included in the price is fitment of a Aquamac Draught Excluder to help keep the heat where it should be – inside your home.
Doors come complete with insurance approved mortise lock, Yale Lock, surface bolts, letterbox and 4″ ball bearing hinges.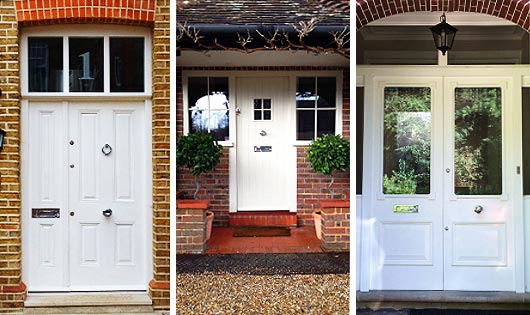 Bi-Folding Doors
Our breathtaking Bi-Folding doors are crafted by our specialist team and are designed to be used as one single door or to be opened fully, to match your specific requirements. Our Bi-Folding doors are of course approved for both exterior and interior use. Such doors are perfect for allowing an indoor / outdoor lifestyle where exterior walls can be fully opened maximising the flexibility of a living space.
Bi-Fold doors can fold both inwards and outwards giving your various layout options for your home. The maximum size of a folding door is 3300mm Max Leaf height, with a 900mm Max Leaf width. The door Leaf Thickness range from 35mm to 57mm.