Ladybirds! Friend or Foe For Sash Windows?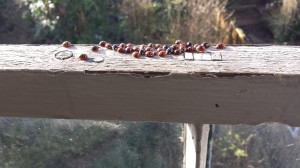 Sash windows are a magnet for Ladybirds. They love a sash window box to live in. They do no harm they just like the warmth from timber I guess?
The annoying thing about these beautiful little creatures is sometimes they can find a way in and can become a free boarding lodgers. This can become more of an issue when you have lots of ladybirds invading your home at the same time.
Generally damage to your sash windows can create gaps and holes and let the little critters in.
Never fear SASH SMART to the rescue! We can repair or replace your windows so that unwanted visitors cannot get in. We offer a range of services and free quotations on everything we do. Check out our free instant estimator and get a free estimate within minutes.
Give us a call to discuss further 0333 121 60 60  
Wishing all our customers, friends and suppliers a very Happy Easter from Chris & Paul the SASH SMART team.
---
---